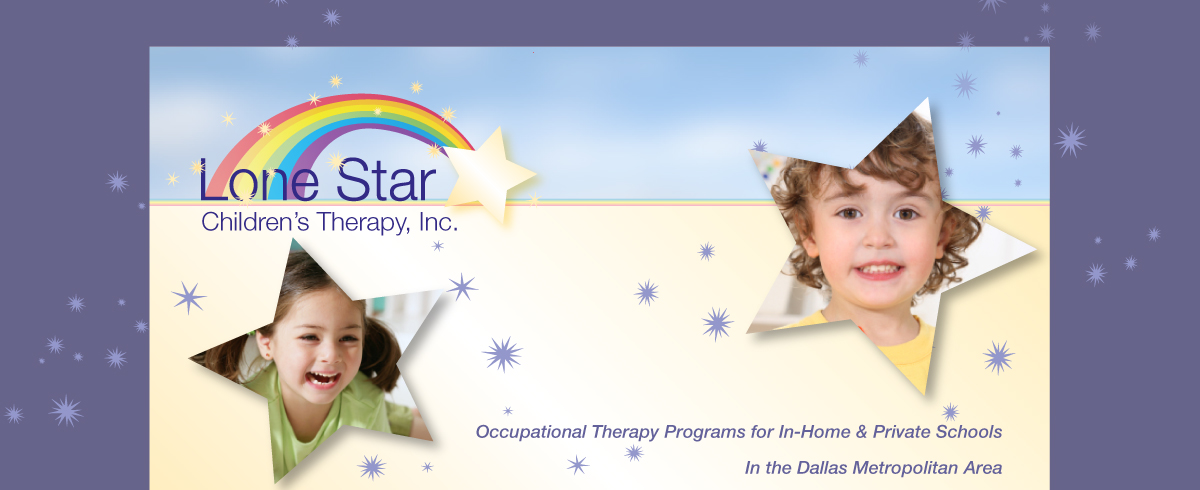 Marnie is a fantastic therapist! She always brought a wonderful blend of knowledge, creativity, and enthusiasm into every therapy session with my sons. Because of her love for what she does, she consistently went beyond the "call of duty" to make sure they were progressing—and they always had smiles on their faces. Now that's good therapy!


Susan Ellis
Co-founder; Director of Operations
The TV Teacher, LLC Marietta, GA

"I have known Marnie Danielson professionally, as a co-worker, for the  past 10 years.  I can truly say she is one of the best Occupational Therapists I know!  She is extremely knowledgeable, dedicated and demonstrates a professional and caring approach to all of her patients and their families. "

Sharon Seltman OTR/L
(Occupational Therapist for over 28 years), Atlanta, GA

Lone Star Children's Therapy's mission is to treat children in both private school and home settings in the Metro-Dallas area including Highland Park, Lakewood, Preston Hollow and University Park. Lone Star Children's Therapy goal is to create effective, individualized home and school therapy programs that will benefit children to reach their functional goals as quickly as possible. In addition, we are committed to educating teachers, assistants and most importantly parents to carryover techniques developed. It is our hope that all treatment sessions foster positive self-esteem and motivate both child and caregivers to take steps toward achieving established goals.

Occupational therapy is concerned with the child's ability to participate in desired daily life activities or "occupations." Occupational therapists use their unique expertise to help children prepare for and perform important learning and developmental activities. Occupational therapists support the achievement of developmental and learning outcomes for children with and without disabilities, by facilitating social skills development, motor development, emergent literacy, and the development of adaptive and self-care skills.

In addition to dealing with an individual's physical well-being, OT practitioners address psychological, social, and environmental factors that may hinder an individual's functioning in different ways. This unique approach makes occupational therapy a vital part of health care for some kids.
–Credit: American Occupational Therapy Association

Who Do We Treat?

Marnie Danielson MHS-OT/L, Owner and
Occupational Therapist has over 12 years of experience working with a variety of
Diagnosis including:

ADD / ADHD
Auditory Processing Issues
Asperger's Syndrome
Autism
Apraxia
Cerebral Palsy
Coordination Difficulties
Developmental Delay
Down Syndrome
Fine Motor Delay
Handwriting Difficulties
Hypotonia
Pervasive Developmental Disorders (PDD)
Sensory Integrative Dysfunctions

Occupational Therapy at Lone Star Children's Therapy

Occupational Therapy may be performed in an individual or group setting. Therapy typically begins with a formal evaluation using standardized testing to determine the level a child is performing. Standardized testing will address gross and fine motor skills, visual-motor skills, handwriting and ability to process and integrate sensory information. After being evaluated, the therapist may communicate with parents, educators, and fellow therapists to determine age-appropriate therapy goals for the child.

Therapists may work in a school setting to address handwriting, fine motor skills, visual motor skills or adapt the environment to assist with learning. We may work in home settings to address adapting the environment, and how to integrate "what works" for each child and family into daily routine. Our policy is open communication with parents and caregivers to discuss possible delays and how to integrate therapeutic techniques into daily life.

Sensory integration is an area addressed by Occupational Therapists to assist children with responding appropriately to the demands of the environment. Use of sensory techniques can positively effect behavior, motor skill, performance to a task, and improve peer interactions. At Lone Star Children's Therapy, Inc., we carry out sensory techniques and integrate them into a classroom and home setting. Marnie Danielson, MHS-OT/L, Occupational Therapist and owner of Lone Star Children's Therapy focuses on helping children with special needs achieve independence in every area of their lives. With over 12 years of experience as an Occupational Therapist, she helps children improve their cognitive, physical and motor skills to enhance their self esteem and sense of accomplishment.

© 2011 Lone Star Children's Therapy, Inc., Dallas, TX ALL RIGHTS RESERVED.